Monkey Harris
has released v1.0 of the Killapin Mod.
Killapin mod is a 3 player team based mod. A good playable 3 team game will be easily achieved with a server of 12 players. However should there be lower numbers, then a 2 player game can be played. The 3 teams are dragons, nikkis and the jokers. The objective of the game will be to gain points. Points are obtained by capturing control points (hoods) and bonus points for killing enemy Bosses and minions.
It is the job of the Boss to get his squad close to the control points, capture the control points and to keep his squad tooled up (There are no weapons, ammo, armour etc. Maps and any maps with such items in them will not be loaded by the server). The members of a squad spawn with little ammo (Minions section 1) and will work, within close proximity of their Boss or they will starve of health and ammo and die.
There is more information about the mod in the readme.
Download Killapin files from here:-
Client Files
Linux Server Files
Windows Server Files
Just extract/unzip the files to your Kingpin folder and they will be placed in the correct locations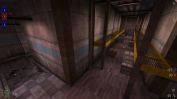 ---