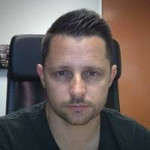 November 9, 1999 on kingpin.iplaygames.com
A = Ryan Feltrin (A.I. and effects programming)
Q = Tanx
Q: What is your feeling on the the way the mod scene is taking off?
A: The "mod scene" has always been a good entry point for wanna-be game developers, and is a relatively easy way for one to put their name on a game that may or may not become famous. For that reason there will always be a steady supply of mods within the community, as long as there are games that support such a concept.
It may not be as exciting as the "old days" when everything was new, but it's still cool to watch others take their shot at fame.
Q: Now that Kingpin has been out for a fair while, in your opinion has the game been as successful as you would have hoped?
A: That's tough to answer, since Kingpin isn't really targetted at the on-line community, you can't use that audience to gauge it's success. I think we knew from the start that some people would be turned off by the adult content, and that didn't really bother us. So we weren't looking at a genre smashing game anyway. I think we did our part though, in spicing things up a bit, in a genre where it once thought impossible to base a game on realistic earth settings.
The very concept that you are not a soldier or out to save humanity, I think put Kingpin in a class of it's own. So it was always going to be an uphill battle, whether it proved successful or not.
Q: You've probably been asked this a lot, but what do you think are the chances of their being an official/officially endorsed mission pack?
A: I really wouldn't know, I'm not involved with that side of things.
Q: What are the chances of Kingpin 2? Sorry I had to ask
A: Ditto.
---