Fredz
has done some fixes for the thug, runt & bitch models.
1. I removed all the double vertices out of models (Expect body.mdx and legs.mdx would give problems with hitbox). Because this can give problems with model editing. You could see this as hole in a map.
2. I fixed default skin. Sometimes a model was not opening the default skin name but had a weird old name. Like skin_upper.tga
3. The hand of female_chick was not good.
See image
.
4. Added the missing sprites to some weapons. Some frames for some weapons don't work due to need update in SDK. (Pistol and Flamethrower should work good)
5. Added a link to a better images with weapons if possible.
5. Added the missing crowbar model. Does need a update in SDK to be active.
6. Added some missing hat skins.
7. Added smoke to the cigar.
If a model is not in the zip it probrably doesn't need a fix.
You can download the player models fix from
here
.
Just extract/unzip the files to your Kingpin folder and they will be placed in the correct locations.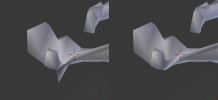 ---