The client files for the new Halloween mod have just been released.
They contain the actual Halloween client files and all maps that will be used by the mod.
The major features of the Halloween mod are:--
- New skins for the Pistol and Pistol mods
- New Shotgun skin and new Shotgun ammo model
- New Tommygun skin and new Tommygun ammo model
- New Hmg, Rocket Launcher, Grenade Launcher, and Flamer skins
- New bat ammo (for RL)
- New flame sprite
- New health model
- New adrenaline model
- New armor skins
- New money models - Candy replaces cashrolls and a Thug head replaces money bags
- New Safe model - Pumpkin model
- New team skins (mummy team skins made by al0
- All Halloween themed skins for Death Match
- New cleaver model
- New custom console background by Elfor
- Halloween themed prefabs and alpha textures by Roarke
You can download the client files from here.
Just extract/unzip the files to your Kingpin folder and they will be placed in the correct location.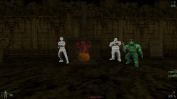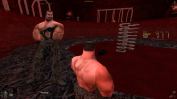 ---