Here is a nice little deathmatch map from a few years ago made by Stigma.
DM Coretex is a small, arena style deathmatch map with an urban Winter setting. The central part of the map is an elevated area surrounded by broken fences and accessed via four elevated pathways. The are two passageways in the outer walls of the map. The map has plenty of player spawns, weapons and other items.
The also map includes weather effects and some single player props.
You can download DM Coretex from here.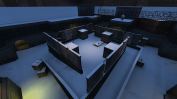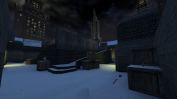 ---