Here is a death match map set in an army base made by DooDaa.
Base Command Final is a smallish map that is an Army Base Command Centre. The map has an outside area, a hanger containing an APC, and 3 buildings. The building next to the hanger is the main communications building. There is a building that can't be entered and the other building houses the sleeping quarters upstairs, and the war planning room and mess area downstairs. There are also several custom sounds.
You can downlaod Base Command Final from here.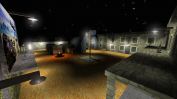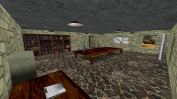 ---