Jonez is currently in a mapping frenzy and has already just about finished another small Bagman map. This one is a remake of a CoD MW map called Stack.
We hope to test it on the ITS Bagman server on Wednesday night around 10pm UK time if anyone wants to come along and check out the map.
Here is a screenshot of the WIP.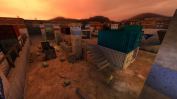 ---