Here is a death match map called Green Leaf Towers that was made by Million several years ago. It's quite an interesting map but I don't think I have ever seen it on any servers unfortunately.
Green Leaf Towers is a medium to large sized death match map with several similar looking arena style areas. These are mainly connected by walk through green marijuana leaf textures.
There are ample weapons, ammo, armour and other items and is a good map for largish crowds like in the weekly games.
You can download this Green Leaf Towers from here.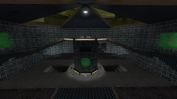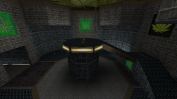 ---