A custom skin for the thug model called Swat made by Cosmos.
You can download the Swat thug skin from here.
Just unzip/extract the files to your Kingpin folder and they will be placed in the correct locations.
Easiest way to select this skin is to:-
Pull down the console (tilde key ~)
type in - skin "male_thug/swa swa swa"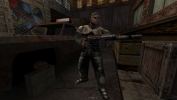 ---