Sorry for delay in releasing this map as my intenret was down for three days sigh.
XMas Immortal Combat is a Bagman map for the XMas mod and is a remake of the standard Team Imortal Combat Bagman map.
It has all the usuall XMas mod additions like Christmas music, decorations, Christmas trees, snow etc.
Other than that the only real change from the standard verson is that I changed some of the armour around after a suggestion form Xanarki.
You can download XMas Immortal Combat from here.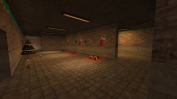 ---