After I converted the Claustrophobic Edge map by sst13 I showed him some screenshots. He was impressed and sent me another of his Quake maps to convert to Kingpin.
This one is called The Black Realm and is a small gothic style death match map. It is a one room map that contains several columns, seval wall torches, uses minimal textures and has 10 player spawns.
The map has the rocket launcher, tommy gun, shotgun, HMG and pistol mods. It has one set of armour and 7 small healths.
You can download The Black Realm from here.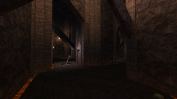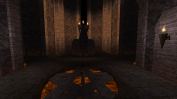 ---