As I posted a while ago, Fredz asked Hypov8 to complete his Team Woods beta map.
Hypov8 has finished working on the map and it is now released.
Team Woods 2016 is a mirrored, medium sized, Bagman map set in the woods.
The bases are in log cabins surrounded by rock walls and streams. Behind the cabins are stashes of weapons.
To get to the other teams base you travel through the groves of trees and the middle section which is a river. There is a bridge across the river with the money drop. There are also four sentry posts, two on each side of the river.
There are underwater tunnels some of which push you along with the current and so only go one way and others have no current so you can travel either way.
You can download Team Woods 2016 from here.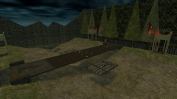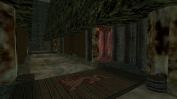 ---