Even though GunRace v1.0 has been released Hypov8 is still working on it.
He is currently adding the custom weapons to some custom player models so they can be used with the mod. Specifically so they can be used as the bots in the Luschen GunRace +bots server.
The models he is adding the weapons to are:-
male_homer
male_mrburns
male_themask
male_bender
male_alien
male_krafty
female_wilma
male_beavisbutthead
He is still working on improving the bots too.
In other GunRace mod news the files have been sent to Monkey Harris so he can create the Linux server files.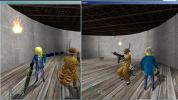 ---