Roarke has created a Hallowen themed creepy crawlies prefab pack.
I have made some prefabs for the upcoming Kingpin life of crime Hallowen mod, and i hope you enjoy it in your maping projects.
There are four prefabs which are a spider, maggot, millipede and wood lice.
Rourke created the prefabs for use iwth Quark and Hypov8 put them in a .map file for use with KPRAD.
You can download the prefabs from here:-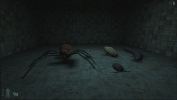 ---