Hypov8
has finished updating hte Godfather mod and it's now at ver 2.0.
He has fixed all the bugs, added five new game modes and added a couple of new features:-
Added MM2.0 features
Many major and minor bug fixes
Lots of code cleanup, esp from 1.7 new gamemodes
Finished realmode and weapoin-mod mode
Added colour to Promotion (yellow) and Demotion (red) console messages
Added 5 new game modes:-
gamemode 2 - reverse godfather (you get all level bonuses at lowest level then less bonuses as you level up)
gamemode 3 - weapon-mod godfather (no pickups)
gamemode 4 - real-mode + regular godfather
gamemode 5 - real-mode + reverse godfather
gamemode 6 - real-mode + weapon-mod godfather (no pickups)
Updated onscreen Table for reverse mode and modes with no pickups
Removed taunt key binds as they are no longer needed
Added "teleport_set" client command to set a new teleport location
We will test the new version at the Thursday game and, if no further bugs found, then release the server files.
--------------------------------------------------------------------------------------------
I do recommend downloading the Godfather Autoexec.cfg file though as it contains the client commands you use in the mod. You can use the preset keys or you can edit the file to set your own key binds.
The keybinds in the Autoexec are:-
bind "i" "showstats" //show current leader stats/your game stats
bind "u" "showtable" //show ranking system
bind "k" "teleport" //use teleporter
bind "j" "teleport_set" //set teleport position (for later use)
You can download the Godfather Autoexec file
here.
The zipfile also contains a comprehensive readme for the mod.
Just unzip all the files to your kingpin folder and they will be placed in the correct locations (kingpin/godfather).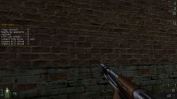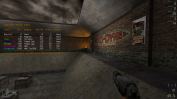 ---