Here is the first new map for 2018.
This is a normal Bagman version of the XMAS Combat map that Hypov8 and I worked on recently.
Team Combat is a smallish Bagman map set in an old war torn village. The map contains four bombed out buildings, two on either side of a river which dissects the map through the middle. There are also two army vehicles included.
The money drop is on the bridge that crosses the river. The team's bases are in two of the bombed out buildings.
There are plenty of weapons and other items and two of the buildings contain huge radios that play two old songs.
The map contains lots of custom textures and custom sounds so much quicker to download from here rather than getting it from the server.
Thanks to Hypov8 for working on the lighting and sunlight in the map.
You can download Team Combat from here.
Just unzip/extract the files to your Kingpin folder and they will be placed in the correct locations.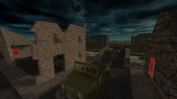 ---