This is a popular death match map that is an update of an old Cujo map by Hypov8.
Trash Metal 2013 is a small death match set in an area where there are lots of derelict old buildings and lots of crates, barrels and boxes littered around the map. There are two indoor corridors on either side of the map.
The map has ample weapons and other items and I like the custom wall textures that were used. There are a few single player props included in the map and it has the raining weather effect.
You can download Trash Metal 2013 from here.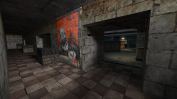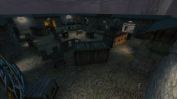 Trash Metal 2013 is also included in BC's_map-pack-n-yo-ass-12 here.
Just unzip/extract all files to your Kingpin folder.
---