Here is my latest map set at a game of tennis.
As I said previously I found an old, unreleased, map set in a tennis court and liked the idea of it so took the actual tennis court and built a new map around it.
Tennis 2016 is a smallish death match map which features a tennis court area, spectator areas and corridors connecting the two spectator areas.
It has plenty of weapons and items, some tennis related pics and sounds and even a cigarette machine for Cleo and a coke machine in case you get thirsty whilst fragging :)
It should be frantic and fun with a good crowd.
You can download Tennis 2016 from here.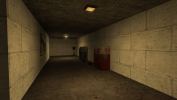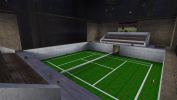 ---