Here is another old death match map made by
Insane Clown
Brickhouse 2 is a medium sized death match map made by Insane Clown back in 2000.
It's a darkish map set in a large structure made of brick.
It has ample weapons and items and uses all Kingpin standard textures.
You can download Brickhouse 2 from
here.
Just extract/unzip the files to your Kingpin folder and they will be placed in the correct locations.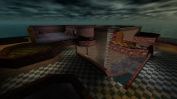 ---