Did you know that the Famous Quake 2 map The Edge (Q2DM1) was also made for Quake 1?
It was avavilable in the Quake Arcade Tournament Edition that unfortunately never made it to commercial release.
I found the map online and converted it for the GunRace mod but it is also available for normal death match play.
Most people would know the Quake 2 version but this version features Quake textures (of course), which I kept in the Kingpin conversion, and some teleports.
You can download Q1DM The Edge from here.
Download and open the zipfiles, then just unzip/extract the files to your Kingpin folder and they will be placed in the correct locations.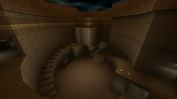 ---