Goat wants to have a final beta test of his Kill COnfirmed mod before releasing it. So he has called a game on Tuesday night starting 9.30pm UK time. It will be Tagman for a hour of so and then Team Deathmatch for the rest of the night.
Server Details:-
Server : Goat's Test Server
IP : 84.87.109.134:31512
Date : Tuesday 8th October
Time : 9.30pm UK time/4.30pm EST time
Check the World clock to see what time it is where you are when it is 9.30pm UK time here.
If you have taken part in any of the previous beta tests then you will have a pak1 and maybe a pak2 in your killconfirmed folder. You should delete both the pak1 and pak2 from the kill confirmed folder as the paks have been updated since last week's beta test.
To delete the pak files open your Kingpin folder and you will see a killconfirmed folder. Open that one and you will see pak1 and maybe pak2 so just delete them.
You will download the new pak file when you join the server.
**Update 9th October**
The test went well. A few bugs were foudn but have already been fixed. I tihnk the mod will be released shortly.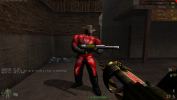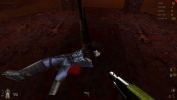 ---