Every now and again I find an older Bagman map that I think we should try out on the current BM servers.
Team Mole is one of those maps.
Team Mole is a smallish Bagman map by Gravedigger. It's two bases separated by an open area with lots of crates and barrels and an old shack in the centre. The shack is the money drop and also contains lots of ammo and armour and other items.
It has ample weapons in the base areas in side rooms. The safes are opened by switches in the area above the safe rooms. Once you use the switch you jump down a hole to get to the safe room.
There are three ways between the bases which are, through the middle open area, or either side of the map there are passages containing rairoad tracks where you can ride on a flatbed carriage between both bases or run down the passages if you prefer :)
You can download Team Mole from here.
Just extract all files to your kingpin folder.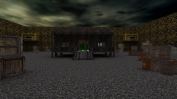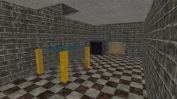 ---