Jerry has created a new cartoonish head skin for the Thug. The name of the skin is Sexy Nose Thug.
You will see Jerry wearing this head skin in the servers.
You can download Sexy Nose Thug skin from here.
Just unzip/extract the file to your Kingpin folder and it will be placed in the corrrect location (main/models/actors/thug).
This is just a head skin so any body and legs skin can be used such as body_009 and legs_003.
Easiest way to select this skin is to:-
Pull down the console (tilde key ~)
Type in :-
skin "male_thug/sns 009 003"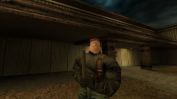 ---