Team Terminal 2 (team_terminal2_2019.bsp) is a new Bagman map by Killa and Captain Death.
It is a smallish map that is a revision/remake of the Team Terminal map that was made by Captain Death.
You can download Team Terminal2 2019 from here.
Just extract/unzip the files to your Kingpin folder and they will be placed in the correct locations.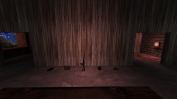 ---