Condemned Arena was a map I originally made for the fabulous GunRace mod. Now the map is on all the deathmatch servers as well.
I just found out there was a bad player spawn in the map so I have fixed it and released an updated version of the map as Condemned Arena 2019.
Condemned Arena 2019 is a smallish deathmatch map that is a remake of the map from Unreal Tournament 1999.
You can download Condemned Arena 2019 from here.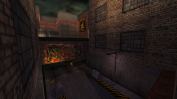 ---