Here is another map we didn't have.
Team Heat Final is a medium sized bagman map made by Jaxon. It has two large, multilevelled, bases with the usual weapon caches. The upper level leads to points where you can overlook the centre playing area that separates the two bases. The middle leads to the central area and the lower level leads directly to the other team's base.
There is a big lava trap in the centre area of the map that is turned off and on by switches located on the upper ledges of the central area. The money drop is also in this central area.
You can get to the other team's base by going via the central area and risking the lava trap or directly by staying on the lower level
This map looks like it could be fun to play.
You can download Team Heat Final from here.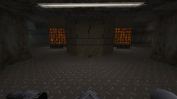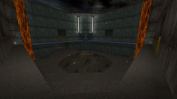 ---