Here is today's new map.
Claustrophobic Edge is a smallish, classic Quake medieval style, death match map that was converted from Quake. Elfor suggested I convert this map so I contacted the original author sst13 who gave his permission to convert it.
The map It has a nice tight layout with two atriums and three levels which are connected by stairs, 2 lifts and a teleporter. There are ten player spawns and ample weapons and items.
You can download Claustrophobic Edge from here.
Just unzip/extract the files to your Kingpin folder and they will be placed in the correct locations.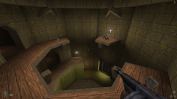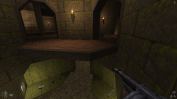 ---