Farm Fear is a death match map Cujo, me, and Hypov8 did several years ago.
It is a conversion of one of the official maps from the game Soldier of Fortune. This is a medium sized map, set in a farm, and uses the SoF Uganda texture set. It has plenty of weapons, ammo and other items and 16 spawn points.
It has been added to the Luschen GunRace+bots server.
You can download Farm Fear from here.
Just extract/unzip the files to your Kingpin folder and they will be placed in the correct locations.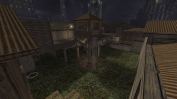 ---