After more than eleven years I have finally taken the Fear Factory death match map out of beta.
I added more detail likes pipes and grates and fixed a lot of little errors. I also changed one small area of the background architexture and changed the lighting somewhat.
Fear Factory is a largish map based on a death match map from the game F.E.A.R. The map is set in and around a factory complex so there are lots of boxes and crates and bits of machinery situated around the map.
You can download Fear Factory (dm_ff) from here.
Just unzip all the files to your Kingpin folder.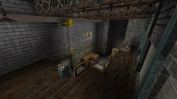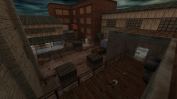 ---