I found the mod files and the source files for Sedonium's Inferno 2.0 Mod so have uploaded them to Kingpin.info.
My old post at Kingpinforever pretty much sums up the mod:-
It was originally described as an ultra gore zombie mod and that is a fair description. I would say it is a mix of the Extreme mod and Kraze bots with a hint of Quake2 and Unreal Tournament and a large dose of steroids.

You can play single player or multiplayer. Even in multiplayer you get to play against AI NPCs (or bots if you will).
There are many customisable options in the server.cfg such as which weapons you start with, how much ammo or even unlimited, which colour you want the flames and explosions to be, how much health you start with and max health etc etc.

You get extra bonuses for headshots and you go on killing sprees in Rampage or Godlike modes.
The AI's are more like zombies, you can shoot their head/arms off and they still fight you.
Plus AI Respawns in singleplayer / multiplayer, so there is always a crowd of angry gang members waiting.
You can download the mod files and source files from here.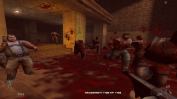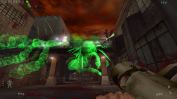 ---