There will be a little Crash mod practice game on Tuesday 9pm UK time.
The reason being is because the game this Thursday is going to be the Crash Squad Mod and a lot of the newer players have not played this mod before and others have but not for many years.
As such I suggest you join me in the Newskool Crash server on Tuesday from 9pm UK time for an hour or so , so that we can get a little practice in.
Server : Newskool Crash Squad
IP : 37.247.117.19:31515
Date : Tuesday 9th Jan
Time : 9.00pm UK time
If you are not familiar with the Crash mod there is a comprensive mod overview
here.
Crash mod is similar to counter strike. There are 2 scenarios - bombing scenario and VIP escort. So some maps are bombing and some maps are VIP escort.
Each map goes for several rounds with each round taking a few minutes.
So the team wins the map that has won the most rounds.
When you die you don't respawn until the next round starts.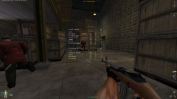 ---