Here is a skin for the thug model based on a character from Unreal Tournament.
The skin is called Grail and is a conversion of the Necris Phayder assassin in UT. The skin was made by DziQ
You can download the grail thug skin from here.
or if you prefer download the Monster Skins Pack which contains the Grail skin from here.
Just unzip the files to your Kingpin folder.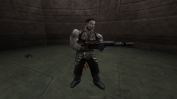 ---