The Sunday Bagman game this week is on Killa's Bagman server starting at 9pm UK time.
Game details:-
Server : Sundays Bagman Game
IP : kp.servegame.com:31519
Mod : Bagman
Date : Sunday 22nd January
Time : 9pm UK time
Maxclients : 24
Admin : Killa
Check the World clock to see what time it is where you are when it is 9pm UK time here.
Bring a big sack to carry all your money!
A good crowd today :)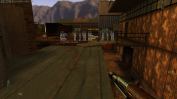 ---