Hypov8 and I have collaborated on a new death match map for Kingpin. It is a conversion of a popular Daikatana map called Gibbler on the Roof.
Elfor sent me the map source file after he got it from someone in the Daikatana community.
It's a medium to large map and we kept all the original DK textures. After a bit more tweaking it will be released.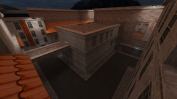 ---