I have remade a map from many years ago called Cage that was made by Titleist. It's a fun little map but only had 3 player spawns.
Anyway I thought people might enjoy playing this shotgun only death match map so I have remade it.
It just needs a test I guess.
Thanks to Jerry for some good suggestions.
Here is a screenshot.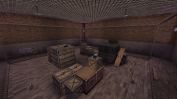 ---