One of the players we were playing death match with today, Kuntz, was looking for a skin he used to wear more than ten years ago. With the help of Killa I was able to locate the skin which is the custom runt skin called mr blobby.
We had the skin but the zip was set up so you had to manually place all the files in their correct folders. I have updated the zip and uploaded it again so now you only have to extract the files from the zip to your kingpin folder.
If you want to see what kuntz looks like when playing online then download the mr blobby skin from here.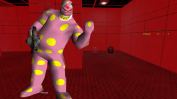 ---