Dead Serious is a remake of the classic Doom 2 map Dead Simple by -=Mad-Dog=-.
Map info from the readme:-
Remember the old Doom level, Dead Simple? Its simple design made for hours of
deathmatching joy. Using the Serious Sam textures, I decided to update this
classic map, hence the name Dead Serious. There is a shootable switch which
opens a false wall, revealing the backpack and cooling mod.
You can download Dead Serious (ded_ser.bsp) from here.
Just extract/unzip the files to your Kingpin folder and they will be placed in the correct locations.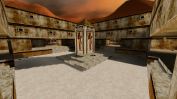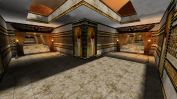 ---