This Thursday marks three years since we started playing the current weekly online games of Kingpin.
The games are always fun but hopefully we can make this one special and get a huge crowd, maybe even the largest we have had so far?
As it's a special occasion there will be several mods and modes played. Come along and join in the fun :)
Here are a couple of shots from the very first game back in Feb. 2016 which actually went for more that seven hours!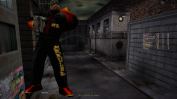 ---