Cherno created all the Kingpin NPC's from Skidrow as character sprites for Doom. It was all part of a failed attmept to make a Kingpin TC for Doom.
This started out as a Kingpin TC. It was the first time I attempted create a mod for Doom so a lot of stuff was made less than ideal, which is one of the reasons I never got around to work on this further. Still, I spent a lot of time creating these character sprites which consists of all the characters from the first map of Kingpin in Skidrow. They are slightly taller than standard Doom monsters so scale them down a bit if you want. I provide the whole pk3 file with a replica of the first Kingpin map, a few weapons and the DECORATE code for the enemies and NPCs. Use them as you wish, I guess they could come in handy for a modern inner-city gangster scenario. Note that the Kingpin textures are available via Realm667 (or as part of this TC). I would like to add that the sprites are antialiased around their borders.
If this sounds interesting to you check it out here.
The file is in pk3 format , contains the character sprites, the skidrow map, some weapon sprites and the kingpin textures in png format and we host it here.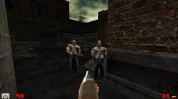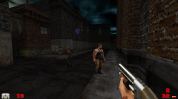 ---