Last year I put together a pak file that contains custom skins for all weapons.
It contains skins from various authors (see the readme). I chose skins that show up in your hud, on the ground, and where possible, in the other players hands.
You can download the custom weapons skinpack from here.
The skins are in a pak4 file.
The zip file is set up so you only have to extract the pak4 file to your Kingpin directory. This will place the pak4 file in your kingpin/main folder.
If you already have a pak4 file in your main folder then extract the new pak4 to a temporary folder somewhere and rename it to another number such as pak2, pak3 etc which you don't already have. Then copy it to your kingpin/main folder.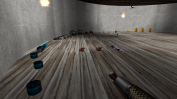 ---