Elfor has released an updated version of the M4A1 colt replacement tommygun model.
This mod replaces the Tommy Gun with a Duke Nukem Forever styled version of the M4A1.
Based on the M4A1 weapon model by HypoV8 for GunRace, originally from Counter-Strike.
There is also a set of custom crosshairs included in the zipfile from Duke3D and Shadow Warrior.
pak8 has the custom model
pak9 has custom crosshairs
You can download the DukeNukem M4A1 from here.
If you already have a pak8 and/or a pak9 file in your main folder then extract the new pak files to a temporary folder somewhere and rename them to another number such as pak2, pak3 etc which you don't already have. Then copy them to your kingpin/main folder.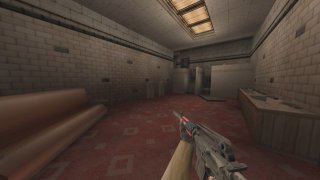 ---