I have updated the Team Winter's Edge Bagman map (team_we_2016.bsp).
The old version didn't have junior entities in the map with a high enough light value.
Kingpin uses Directional Lighting to light the players and weapons and if you have this option turned on and there are no juniors , or their light value isn't high enough, the players and weapons will appear dark.
Apart from one or two other minor tweaks that's the only major change I made.
You can download Team Winter's Edge 2018 from here.
Just unzip/extract all the files to your Kingpin folder.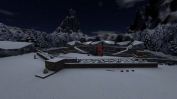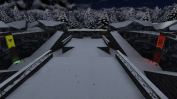 ---