As Rat has made his way back to Kingpin I thought I would take this opportunity to post about a death match map he made years ago called Welcome to Rat's Building.
It's a smallish map set in and around an office block under construction.
There are ample weapons and items scattered around the map and the HMG is under the water in the bottom of the building - I guess it had been raining :)
You can download Welcome to Rat's Building from here.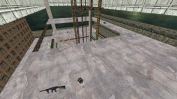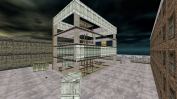 ---