Zeppelin[FnR] is currently in the process of converting the Leela player model to Kingpin.
Check out a screenshot.

There is already one player model from Futurama in Kingpin. You can grab the Bender model from here.
Just extract/unzip the files to your Kingpin folder and they wil be placed in the correct locations.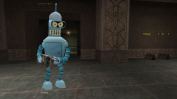 ---