Acc has updated his 'Images to WAL textures' utility program. The program allows you to convert many image formats (bmp, pcx, gif, png, tga, jpg) to Quake II WAL files.
Acc explaines why the update:-
...updated the program to version 0.4 because Hypov8 told me animated textures could be achieved by compiling maps with properly configured WAL textures. This version automatically links animated frames (files have to start with a + followed by a one-digit number from 0 to 9, for instance: +0anim1.tga, +1anim1.tga, +2anim1.tga, etc.)
You can download the Img2wal utility from here.
You can see examples of maps that have used animated from here:-
Board Level (animated numbers on chip)
Arena Gate (animated flames)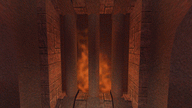 ---